Wholesale Dealer - Become a b2b wholesale partner for quad atv bikes ..
Become a wholesale partner | Shipping wholesale around the world for quad | bike | atv | buggy & more
Become a reseller partner | Quad | Bike | Atv | Buggy |

We are glad about your interest in products from Menila Import, THE EUROPEAN IMPORTER of Bikes ATV and Quads for children and adults from Asia. We led our products produce after our own quality standards and designs to sell them primarily to distributer and reseller in whole Europe. If you are interested to become a distributor or reseller from MENILA IMPORT and benefit from our good after sale service and profits for dealer, please, provide us the information below to get your b2b dealer access for our web shop. By registering as a b2b dealer you will have access to all detailed product information and the possibility to order through our web shop. To a successful partnership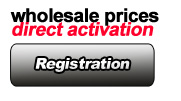 Become a wholesale partner |

Shipping Wholesale around the world

for Quad | Bike | Atv | Buggy ..

Grazie per il Suo interesse nei prodotti della Menila Import. Menila import è una compagnia di vendita all'ingrosso specializzata nella vendita business to business. Se è proprietario di una attività (venditore o rifornitore) o un rappresentante, la invitiamo a inviarci le seguenti informazioni così da poterle fornire un' account da cliente business sul nostro sito online. Registrandosi come cliente business avrà accesso a tutte le informazioni sui nostri prodotti e potrà inoltre fare i propri ordini via web.
Become a ATV wholesale partner | Shipping ATV Wholesale around the world for Quads & Bikes and more.
Devenir un partenaire en gros | Expédition en gros dans le monde entier pour ATV & Quad and more | Convertirse en un socio al por mayor | mayor envío de todo el mundo para Quad | bicicletas | Atv | Buggy ..